Are you tired of the same old cake at birthday parties? Has the usual cake at office gatherings run its course? Looking to make a statement with a cake design that is uniquely yours? Look no further than Vicky Bakery where you can dream your cake and eat it too.
Whether celebrating a birthday, anniversary, wedding, graduation, family milestone, office breakthrough, or just having friends over, Vicky Bakery has got you covered.
Our innovative cake design teams at our nearly two dozen locations across South Florida can help you create a cake that perfectly fits your personality, taste, or occasion. Certain customizable cakes are only available at participating locations, but whether you want a conventional cake or something completely tailor-made, you can place those orders in a store, over the phone, and even online at select bakeries. All you need to do is choose the shape, size, flavoring, icing, and decorations of your cake. Want a two-tiered cake with rainbow-colored sprinkles and flowers? Let's talk. How about a chocolate cake with gold cheetah print? We'll figure that out too.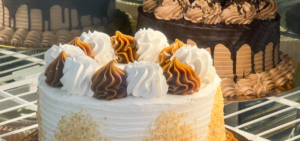 Our cakes typically come in 6" or 8" rounds or in a ¼ sheet rectangle and our traditional flavors include vanilla, chocolate, or dulce de leche. Cookies and cream and strawberry cakes are also available, but only at select locations.
Once you've thought about the kind of cake you want, simply place your order, and we'll take care of the rest. Our bakers use only the freshest and finest ingredients, so you can be sure your cake will taste as good as it looks. And with our fast and reliable service, you can have your cake in hand in no time. Custom cakes however require at least 5-7 days' notice. And while there are always cakes available for purchase at Vicky Bakery, it's best to place an order at least 48 hours in advance to guarantee a specific flavor.
So, whether you're celebrating a birthday, wedding, baby shower, or just want to indulge your sweet tooth, Vicky Bakery's got you. Just sit back, relax, and let us do the work.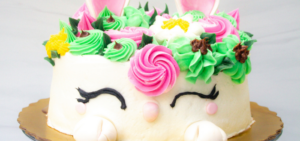 And to make it even easier on you, we've created The Party Special (Especial de 25 Personas), which takes the guesswork out of everything. This is our very own special ¼ sheet vanilla cake filled with natilla (vanilla custard) and decorated with classic Cuban merengue. This cake comes with three of following savory trays (25pcs each) to round out your party: guava pastelitos, a cheese tray, a croquetas tray, or a bocadito de pasta tray. Costs vary between $35 – $45, depending on location.
What are you waiting for? Visit vickybakery.com to find your nearest location and start designing your perfect cake today. We can't wait to see what you come up with.