Here we grow again! Our newest bakery is now open at 8290 Bird Rd, Miami, FL 33155 just steps from Tropical Park. New owners Lisy Zambrana and Relvis Diaz opened the doors to their first Vicky Bakery just a short time ago and they are open seven days a week from 6:00 a.m. to 7:00 p.m. Monday through Saturday, and Sunday from 6:30 a.m. to 3:00 p.m.
"South Florida has been our home ever since we fled Cuba and we are so excited to be the new owners of the Bird Road Vicky Bakery and to now be serving the community that has given so much back to us," said Zambrana. "We know the people in and around Westchester, or even those commuting up Bird Road or on the Palmetto Expressway, are going to absolutely love stopping in or picking something up on the go".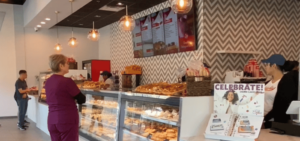 For 50 years, Vicky Bakery's Cuban roots and steadfast commitment to tradition have allowed the brand to stand out against the competition, passing along the love, time and traditions that went into making pastries originally in 1972. Today, that set of core values, along with its belief in quality, variety, convenience, and experience, still determines its direction and has kept the brand on solid footing. Created in our own kitchens every day, Vickey Bakery bakers and chefs prepare an extensive variety of authentic Cuban breads, pastelitos, croquetas, pastries, desserts, breakfast items, sandwiches, cakes, coffee, and so much more to satisfy every appetite, whether it's a sweet indulgence or even a loaf of vegan Cuban bread.
Bird Road is the perfect location for a Vicky Bakery. The Westchester neighborhood is buzzing with excitement, poised for growth, and already attracting customers from the surrounding neighborhoods and those commuting to and from work or school. Please stop in and say hello.
To contact the store directly, call them at 786-212-1281.